Company Information
Natureland is a New Zealand owned and operated family company producing a range of premium, convenient, ready-to-serve baby foods with a focus on quality and traceability throughout the supply chain.
Address: 10 Rakich Place, Henderson, Auckland 0612, New Zealand
Origin
Natureland Pumpkin Potato with NZ Beef (6+ months) is produced and packed in New Zealand.
Natureland holds a NZ Fernmark License (License No. 100260), which provides formal government recognition of New Zealand as the country of manufacture.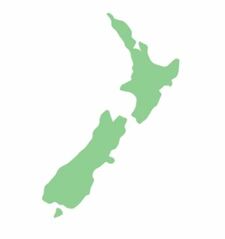 Environmental
Key Ingredients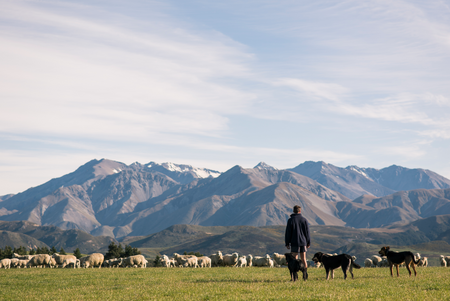 Where possible Natureland sources its key ingredients locally with fruit, vegetables, beef and lamb grown on New Zealand's Orchards and Farms.
The produce is harvested during peak season for optimum flavour and nutritional value.
The beef and lamb are sourced from farms located throughout New Zealand.
Complies with Regulations
Natureland has established relationships with suppliers to ensure quality and continuity of supply.
All local and overseas suppliers must comply to strict standards detailed within Natureland's approved supplier programme as well as meeting all relevant Acts and Regulations to ensure compliance.
Safety & Quality
Food Safety Testing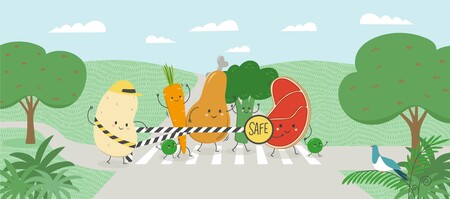 Natureland products are checked throughout production to ensure compliance with the New Zealand Regulations. 
Testing is performed by a team of experienced and trained staff.
Produced Under New Zealand Government Regulations
New Zealand has Acts and Regulations in place to ensure all baby food products produced are safe for consumers and manufactured using fair and sustainable practices. 
This includes the requirement to operate under a recognised MPI registered and verified Risk Management Program (RMP) and comply with the requirements set out in the Australia and New Zealand Food Standards Code.
Auditing
Natureland's facilities are audited against its Risk Management Programme (RMP) by the Ministry for Primary Industries (MPI).
The Natureland manufacturing site is BRC certified, an internationally recognised mark of food safety and quality.
There are systems in place throughout Natureland's entire supply chain to ensure that each pouch of baby food meets high standards of safety and quality.
Select any part of the supply chain to view the assurances at each step.
The Farm
Trusted Suppliers
The Factory
Factory Assurances
The factory operates under a Risk Management Program (RMP) where processes are regularly assessed by independent auditors to ensure compliance to New Zealand Regulations and Acts.
The factory additionally holds BRC (British Retail Consortium) Accreditation, an internationally recognised Food Safety and Quality Program.
Processing Assurances
Storage Assurances
The pouches are stored within Natureland's own secure warehouse before being transported to the wharf.
Shipping
The freight company ensure that the products are accompanied by all EAD (export accompanied documents) that is required by the importing country including:
customs documents
other documentation required by the importing country must be completed and approved before it can be loaded on board the ship.
The product is shipped to China and checked on arrival by China Customs.
China Customs check and confirm all requirements have been met and may test the product again prior to releasing it into their country.
Once cleared by customs the product is sent to the distribution warehouse.
Retail
Once the products arrive at the warehouse they are managed using barcoding and traceability systems.
No product leaves the warehouse until it receives a final quality check.
 Products are packed onto delivery trucks and distributed to online and retail stores.
Retailers ensure that the product is fresh by using good stock rotation, and checking the best before dates before selling the products to consumers.
The AsureQuality AQ Assured Verification Code can be scanned to be sure of the safety and quality measures undertaken throughout the product supply chain.
Nutrition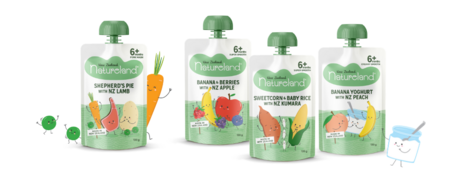 The Natureland range of baby food (6+ months) contain no artificial colours or flavours.
Natureland baby food pouches and have been specifically developed by a team of experts.
Available in a range of flavours and textures.
Contained in ready-to-serve BPA free pouches for convenient use and storage.