AQ Assured™ and AQ Certified™ are brands of AsureQuality. In June 2020 AsureQuality launched an exciting new look. As AsureQuality continues to provide robust independent verification of supply chains and independent claims, the design of the AQ Assurance marks has changed in alignment with the overall AsureQuality brand.
Introducing the new AQ Assurance Marks: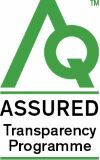 Why has the AsureQuality Brand changed?
AsureQuality provides the broadest range of food assurance services in New Zealand, with over 100 years' experience working with our food and primary production sectors. The journey began way back in 1875 as part of the Department of Crown Lands, which in 1892 became the Department of Agriculture. Services were split across two state-owned enterprises (AgriQuality and ASURE) in 1998, before eventually merging in 2007 to become AsureQuality.
After 13 years, we have launched new branding, to better reflect who we are today, our shared role for Aotearoa, and the services that we deliver.
Check out our new website and more from AsureQuality's Chief Executive Officer, John McKay here.
What's next for the AQ Assurance Mark?
Starting from June 2020, our partners will be progressively transitioning to the new logo on pack. As product packaging cycles can take an extended period of time to complete, there will be brands that are using either the old or new AQ Assurance marks on their products, and we expect to see both marks present in the market for the next 2 years.

    or      

Our website has been updated to reflect the brand change and new look. The QR code system on both new and existing marks will continue to function as normal and consumers can access our verified information at any time.
Do you have a question about AQ Assurance Marks, or our new branding?