Company Information
Mana Kai is a Māori honey company specialising in the production of high grade New Zealand Mānuka honey. Formed in 2013, Mana Kai Honey is an emerging boutique beekeeping business that manages hives in remote locations across the North Island of Aotearoa (New Zealand).
Address: 76 State Highway 1, Awanui, Far North 0486, New Zealand
Origin
Mana Kai is a Māori company that produces honey from the hives they manage within remote locations across the North Island of Aotearoa (New Zealand).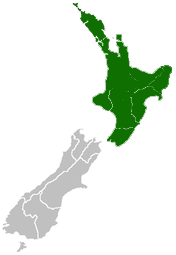 New Zealand Mānuka honey is produced by bees collecting nectar from the Mānuka plant (Leptospermum scoparium). Mānuka plants can be found growing throughout New Zealand.
All Mana Kai honey is certified and licensed by NZ Fernmark (License number: NZFM100135) which verifies New Zealand as its country of origin. The Fernmark license is a formal government recognition of Mana Kai's connection to New Zealand.
Supply Chain
There are systems in place throughout Mana Kai's supply chain to ensure that each jar of honey meets high standards of safety and quality.
The Apiary
Apiary Assurances
The Apiaries where the hives are located are registered with New Zealand's Ministry for Primary Industries, and comply with their annual hive inspection and reporting requirements
Mana Kai beehives meet New Zealand requirements to construct beehives with materials that are not a source of hazard to the honey
All of the honey comes from hives managed by Mana Kai
The Factory
The honey hive boxes are transported from the Apiary to the Extraction factory, accompanied by signed Harvest Declarations that detail:
The apiary location that the boxes have come from
The date they were harvested
The identity of the person that harvested them

Factory Assurance
s
 - Extraction
Honey is extracted from the hive frames contained within the hive boxes and stored in secure food grade drums
Samples of honey are taken during the extraction process and tested by an accredited laboratory for authenticity, safety, quality and UMF level
The extraction facility is audited biannually by NZ Government-owned AsureQuality to ensure Risk Management Plan (RMP) requirements are met

Factory Assurances - Bottling
The honey drums are transported to the bottling factory
The Mānuka honey is packed into jars 
The final product is tested again at an independent accredited laboratory for authenticity, safety, quality and Mānuka qualities
Each jar is labelled with a batch number for traceability purposes, and stored in a facility that operates an audited Risk Management Plan to ensure quality is maintained
The bottling facility is audited biannually by NZ Government-owned AsureQuality to ensure Risk Management Plan (RMP) requirements are met
Transport
The product is delivered from the factory to the appropriate distribution route via a registered transport company
Transport Assurances
The transport company that delivers the honey is required to have a current New Zealand Ministry for Primary Industries Risk Management Programme before it can carry any honey products, as per New Zealand's Animal Products Act, 1999. This transport company is audited regularly by authorised personnel to ensure that the required standards are being met and maintained.
Shipping
This mānuka honey product has several distribution routes.
Airfreight
For product sold outside of New Zealand, through some online routes the Honey jars are sent to the destination country via airfreight
The honey order is processed and tracked via barcoding and traceability systems until final courier delivery to the consumer
Seafreight
For product sold outside New Zealand, through retail stores and some online routes the honey jars are sent to the destination country via seafreight
The shipping company ensure that the products are accompanied by all export accompanied documents (EAD) that are required by the importing country, including:
Customs documents
Certificates of product laboratory analysis
 Once cleared by customs, the product is sent to the distribution warehouse being allocated to various retail locations.
Consumer
This honey carries the New Zealand Fernmark and AQ Assured verification label on-pack, indicating that the product is from New Zealand, and that the product supply chain has been verified by AsureQuality.
Environmental
Mana Kai do not use treated timber within their beehive construction, avoiding chemical exposure for their bees, bee products and the environment.
Mana Kai honey products are obligated to be produced in compliance with New Zealand's Resource Management Act (2009), and local council Resource Management Plans, which set rules and regulations around management of the New Zealand Environment. The regulation and compliance monitoring of environmental concerns is under the NZ Government-owned Environmental Protection Agency (EPA).
These rules include:
Disposing of waste in ways that prevent pollution
Controlling manufacturing emissions to ensure air quality is maintained
Using only approved chemicals in a way that will not harm the environment
Operating within a safe distance of waterways to avoid erosion and product water quality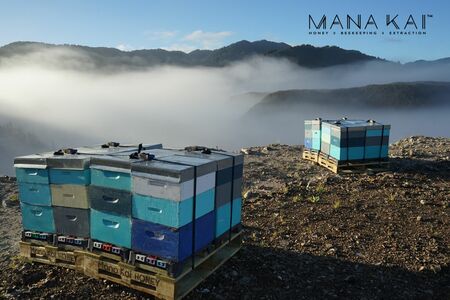 Social & Ethical
Balanced Approach 
Mana Kai aims to invest equal energy into their bees, their land and their people. This approach is founded on a belief in ensuring that all aspects work symbiotically to produce a beneficial outcome for all. As a vertically integrated company, Mana Kai work on the land as beekeepers, process the honey in their factory, and export bee products to the world.
Mana Kai are committed to supporting and developing their community by:
Undertaking honey bee education within local schools from five years of age through to teenagers
Employing local people within the bee industry
Supporting local enterprises through sponsorship initiatives

The Mana of Bees
Mana Kai see bees to have achieved strong mana through their environmental contribution and genetic behaviour. For Māori, to say that something has mana means that it is regarded as having integrity and honour, and is therefore highly respected. 
The Mana Kai team share their knowledge of the ecological importance, and notable biological traits of bees with their community, and with both local and international visitors to their site in Awanui.
Mana Kai's understanding of the ability for bees to learn and recognise objects has influenced the design of their beehives, which are fitted with hive locators. These have different colours and shapes at the entrance to each hive, helping each bee to identify which hive is their own as they fly into the apiary site.

In order to recognise the mana of bees it is important to Mana Kai to treat their colonies with care and respect. Mana Kai employ highly experienced international beekeepers and pair them with local inexperienced youth in order to provide this care, and to grow beekeeping expertise and wisdom locally.
Safety & Quality
Laboratory Testing
Product quality and safety are important to Mana Kai and they take precautions to ensure their honey meets high safety and quality standards. 
During the extraction process, samples of honey are sent to an accredited laboratory to be tested, then the final product is tested again for authenticity, safety, quality, methylglyoxal (MGO) and Unique Mānuka Factor (UMF™).
Mānuka Qualities
MGO
MGO is methylglyoxal, a naturally occurring compound within Mānuka honey. Sometimes referred to as MG, this is one of the compounds tested to determine the quality and purity of Mānuka honey. The higher the MGO rating the more methyglyoxal present in the honey.
UMF™
UMF™ is a grading system undertaken by the more than 100 New Zealand honey producers that form the UMF™ Honey Association. This grading system requires laboratory testing for three grading attributes in order to determine the UMF™ rating.
New Zealand Government Testing
In addition to MGO and UMF™, Mana Kai meets the Ministry for Primary Industries requirements for all export honey labelled as Mānuka to be tested by a recognised laboratory, ensuring that it meets the scientific definition of Mānuka honey. The Mānuka honey definition is made up of a combination of 5 attributes (4 chemicals from nectar and 1 DNA marker from Mānuka pollen).
Auditing
The extraction, bottling, transport and storage facilities involved in the production of Mana Kai honey are audited to verify that requirements of their Risk Management Programmes (RMP) are met and maintained.
Nutrition
This product is 100% NZ honey.
This batch of honey has been independently tested to contain a level of at least 15+ UMF™.